Green Economy, Circular Economy, energy, natural resources Ethical Markets
SUMMARY
Joel Solomon, pioneer of social impact, ESG investing tells all in "The Clean Money Revolution".
Morgan Simon applies social ESG investing with her millennial generation lens in "Real Impact".
For full disclosure, reviewing these two books was a delightful personal trip down memory lane with many old friends.
As one also involved since the 1980s in the development of this type of investing focused on social environmental and governance (ESG) factors, I have seen this field evolve to now account for one in every six dollars traded on US public markets (US Social Investment Forum). www.socialinvesting.org
Joel Solomon and Morgan Simon exemplify this pioneering entrepreneurial investing mindful of our responsibilities for the future called for by Blackrock's Larry Fink in his famous letter. This evolution of finance and technology beyond GDP-measured economic growth to the Sustainable Development Goals (SDGS) ratified in 2015 by 195 member countries of the United Nations (UN) may yet steer humanity into a safer, fairer, healthier green future. [email protected]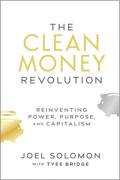 Author Joel Solomon describes in The Clean Money Revolution his journey from his upbringing in a Jim Crow culture in Nashville, Tennessee to his exploration of Asian spiritual traditions. He began in the 1970s to invest in his now over 100 early-stage companies all geared to this healthier, more equitable future envisioned now in the UN's SDGs. He chairs the Renewal Funds in Vancouver deploying $98 million in mission-related venture capital, while he also advises the RSF Social Finance group in San Francisco. In this book he describes in detail his investment philosophy, method, metrics and gives a wealth of examples of companies, strategies with other lead investors and consortia.
Solomon paints a lively picture, entwined with his personal story, of how these investing trends evolved since the pioneer mutual funds, Pax World, Calvert, Domini and Parnassus emerged in the1970s and 1980s. He explains why he shifted away from publicly-traded companies to direct investing in early-stage private equity deals: "Public markets are a casino where hundreds of millions of people are betting on an assumed value" while "public securities are only pieces of paper traded on a perceived value" (page 173). Many others have come to the same conclusion, especially since 2008! I also invest privately and directly, as do many family offices and high net worth individuals, with an estimated $4 trillion globally, while exceeding average hedge fund returns. Family Office Network
Solomon's key message for his baby boom cohorts and millennial colleagues focuses on the $50 trillion that will change hands in the USA by 2050 – now underway. He shows how this capital can be successfully shifted from the 19th and 20th century fossilized industry sectors to the future cleaner, fairer, knowledge-richer sectors and technologies now widely envisioned with increasing clarity in the UN's SDGs.
Solomon's vision sees a global $100 trillion investment worldwide in a Clean Money Transition from 2017-2050 which he itemizes on page 220:
Transition to renewable energy ……………………….…$10 trillion
Sustainable transportation …………………………….……$10 trillion
Green and living buildings……………………………………$10 trillion
Soil restoration and carbon capture ………………….…$10 trillion
Zero waste (now termed the circular economy) …$10 trillion
Guaranteed incomes, healthcare, education………..$10 trillion
Steady state economy transition……………………….…$10 trillion
Reparations for colonialism and slavery ……………. $10 trillion
War and weapons industry reduction……………………$10 trillion
_________
$100 trillion
Today, similar sums are discussed in global financial forums, including the private investments in green sectors we track in our Green Transition Scoreboard® (a cumulative $8.1 trillion since 2007). Governments, international finance agencies, think tanks and the World Economic Forum are now discussing its sobering Global Risks Report, 2018. Yet all these problems can become successful investments in solutions, as Joel Solomon shows in his book.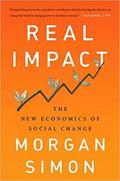 Investor Morgan Simon echoes this new urgency in her book, Real Impact. Since age 23 she still devotes all her efforts to this same global transition to a sustainable world through managing PI Investment Corp and the Libra Foundation and as co-founder of non-profit Transform Finance. Simon was also founding CEO of Toniic, an innovative consortium of high net worth investors, family offices bent on shifting their portfolios toward 100% sustainable companies.
Real Impact is chock full of specific models, strategies, investment goals and successful examples of enterprises she has helped nourish. She is equally tough on empty promises of market-based returns offered in some "impact" investing prospectuses. The word "impact 'is confusing, since all investments have impacts: some blow the tops of mountains or pollute the Gulf of Mexico, while still others live up to their promises. Simon summarizes the objectives of Pi Investments in addressing structural challenges reinforcing today's extractive economies:
Shareholder primacy misaligns incentives
Remote limited ownership leads to wealth extraction
Infinite growth models incompatible with a finite planet
Limited leadership stunts creativity to address global challenges
Support investments focused on human needs; ethical production and consumption; incorporate communities in design and ownership of enterprises; creating and broadening direct, transparent investment opportunities
Balancing risk and return between investors, entrepreneurs and communities while exploring investment structures encouraging enterprises to maintain their social mission focus.
Morgan Simon combines vision and expertise with hard-nosed realism and achieves verifiable results.
Both these books will be useful to adventurous asset allocators, trustees, high net worth owners, family offices and researchers, as well as international agencies and the UN now driving the SDGs toward their goals in 2030.
Disclosure:I/we have no positions in any stocks mentioned, and no plans to initiate any positions within the next 72 hours.
I wrote this article myself, and it expresses my own opinions. I am not receiving compensation for it (other than from Seeking Alpha). I have no business relationship with any company whose stock is mentioned in this article.